Friday, January 30, 2009
Posted by

Agusti Lloberas
at 1:10 PM
0 comments


Wednesday, January 21, 2009
Go to the Macmillan Secondary Course
web site
, introduce your password and do these exercises:
Unit 3
- Past Conti+PastSimp 1
- Past Conti+PastSimp 2
- Past Conti+PastSimp 3
Remember that you can use your book if you have any problems with the exercises. I'm sure you will find similar exercises there.
I will check your work on Wednesday, January 28th, 2009.
Posted by

Agusti Lloberas
at 10:16 AM
1 comments


Wednesday, January 7, 2009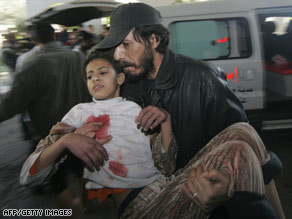 Click on this
link
to get the complete piece of news.
I took this picture from the CNN.com web site on January 7th, 2009.
This is a picture of Gaza. It is in Palestine. The people in the picture are running and hiding. They are very scared and hurt because their city has been attacked.
As you can see, there is a scared man with a bounded boy in his arms.
I don't like it because it reflects the fear of people. I'm against war and any kind of violence.
PIECE OF NEWS SUMMARY:
Israel's decided to open a "humanitarian corridor" into Gaza in response to mounting concerns about shortages of food, water and medicine in the territory. The military did not immediately say when the bombing would halt. Israel says the operation is aimed at halting the firing of rockets into southern Israel by Hamas, which has controlled Gaza since 2007. But 35 rockets fell on Israeli territory on Tuesday, and five struck southern Israel by late morning Wednesday, Israeli police said.
Posted by

Agusti Lloberas
at 11:42 AM
1 comments